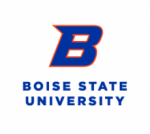 Website Boise State University
eCampus Center
Boise State University, powered by creativity and innovation, stands uniquely positioned in the Northwest as a metropolitan research university of distinction. The eCampus Center in Extended Studies enthusiastically seeks candidates for the position of Learning Analyst.
Reporting to the eCampus Center Research and Innovation Team Manager, the focus of this position will be to provide data, reporting, and statistical analysis support for eCampus Research and Innovation Team projects. In support of the new learning analytics initiative for online courses and programs, this employee will work with students, faculty, and staff to develop reports, models, and visualizations to help ensure online student success and retention. To be successful, this position will need to have a firm grasp of data collection, statistical analysis, and visualization techniques as well as an understanding of learning theory.
As part of this position you will:
Work with online program coordinators, faculty, and Student Success Coaches to identify and develop reports, metrics, and visualizations that help trigger timely interventions for student success, and to refine those reports in an iterative process.
Develop and evaluate predictive models to identify key factors that may hinder online student success in a program.
Create queries to gather, clean, validate, merge, and maintain data sets from multiple sources (e.g. data warehouse, student records, PeopleSoft) for analysis by the Research & Innovation Team. This includes ensuring that data is secure and appropriate precautions are taken to maintain student privacy.
Assist in creating and delivering presentations to university officials, administrators, faculty, and at research conferences.
Work with eCampus Instructional Design and Production Teams to develop dashboards and reports that will help drive improvement in the design of courses and programs.
Qualified candidates will:
Have a demonstrated understanding of learning theory.
Write queries and/or scripts to collect, clean, merge and analyze data from diverse data sources including relational databases and data warehouses.
Appropriately apply statistical analysis techniques (e.g. Analysis of Variance, Linear Regression, Factor Analysis, etc.) to solve research problems.
Have an innovative nature and a desire to find better and more efficient ways of streamlining, standardizing, and error-proofing data, data files, tables, data sharing, and reports.
For more information and to apply for this position visit here.