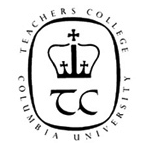 Website Department of Human Development
Teachers College, Columbia University
Rank: Open Rank, tenure-track or tenured
Position
The Learning Analytics Program at Teachers College, Columbia University invites applicants for an open rank position in Learning Analytics/Educational Data Mining. We are looking to hire a faculty member who is immersed in the learning analytics and educational data mining communities. In addition, we anticipate that the scholar hired for this position will also have the qualifications to make connections and contributions to at least one additional program in the department (Cognitive Science, Developmental Psychology, or Measurement, Evaluation, and Statistics).
Responsibilities
Develop and maintain a robust program of research in learning analytics. Teach courses in the core program sequence. Advise masters students in the learning analytics program and those in the learning analytics track in the Cognitive Science Program. Advise doctoral students and supervise dissertations in the relevant departmental doctoral program. Lead program development and engage in public outreach and field development efforts.
Qualifications
Major qualifications include: a doctorate in a field relevant to learning analytics, an established program of research, experience teaching graduate students, and experience in program development. Women, minorities, and persons with disabilities are encouraged to apply.
Qualified candidates should submit the following materials to the search chair, Professor Gary Natriello, via email only, to learning-analytics.search@tc.columbia.edu
Vitae (including 3 references who will only be contacted after checking with applicant)
A cover letter that includes: a statement of how you meet the qualifications, a brief statement of research and teaching interests, evidence of effective teaching in learning analytics, and evidence of successful program development/leadership experience
Candidates progressing beyond the initial screening will be invited to submit letters of reference and publications only at that time.
Search Timetable
Review of applications will begin November 15, 2017 and continue until the search is completed. Appointment begins September 2018.
Teachers College as an institution is committed to a policy of equal opportunity in employment. In offering education, psychology, and health studies, the College is committed to providing expanding employment opportunities to minorities, women, and persons with disabilities in its own activities and in society.
Teachers College, Columbia University
525 West 120th Street, New York, NY 10027